Amateur cattery of Ragdoll cats of Anna Aprea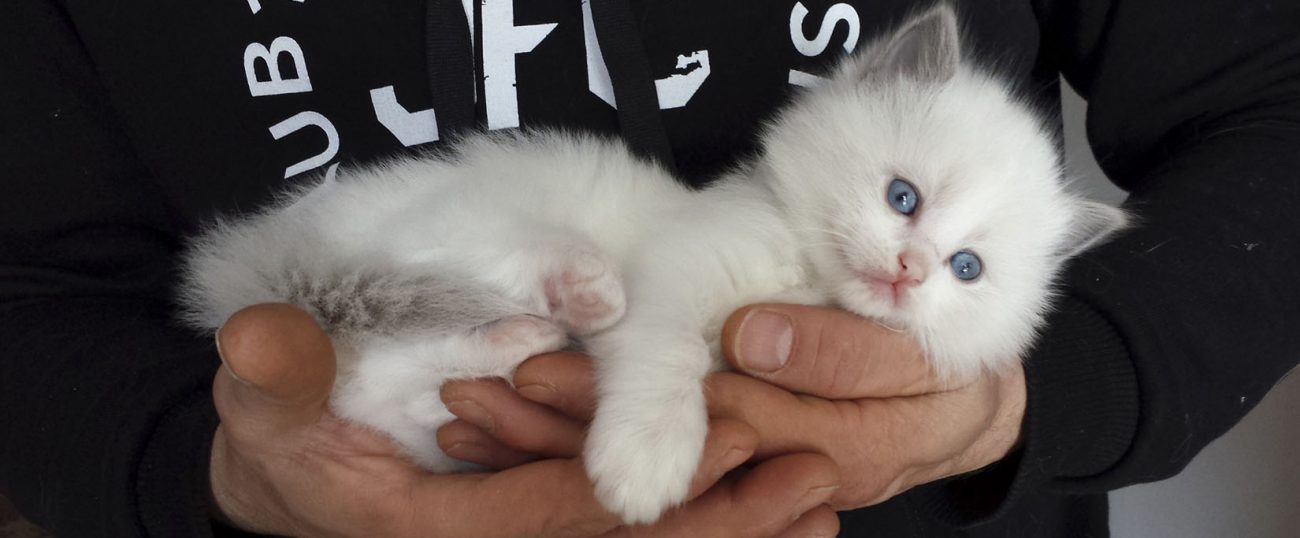 About us
Ragdoll BluQueen amateur cattery Recognized by WCF (World Cat Federation)/ A.G.I. (Cats Association of Italy)
Welcome to the web site of my amateur cattery of Ragdoll cats, my name is Anna and I breed these beautiful cats since 2005. Mine is a small amateur cattery, my passion for these wonderful cats was born almost by chance: one day while I was reading an old book about various cat breeds , I was immediately charmed by Ragdoll, previously unknown to me.
Its beauty, its gentle and soft character and the unconditional affection that unites this cat to the human, became a revelation to me.
I found the cat of my dreams!
I started my experience as a breeder with a Blue Point female named Baby Milù (after sterilized) and a male Blue Point "Red River". Then eventually I have decided to go abroad to look for different breeding bloodlines in a way to cross several genetic resources and try to get as close as possible to the "classic" American Ragdoll. Thereafter was then a succession of new arrivals: Meeko a beautiful Chocolate Bicolor male brought from New Zealand and finally after a long awaiting i took a beautiful Blue Bicolour High Mitted female Diadems Miss Norway Sollis.
For my breeding program I chose to take a female Blue Bicolour kitten from Poland (Josephine). After about two years, the day 05/04/2013 my husband has left for Prague to pick up a sweet little Seal Mitted female named Fiorente Doreen, with 100% traditional bloodlines. At this point I needed a fine large-bodied male and thus decided to take from Spain a beautiful Seal Bicolor male named NaorahDolls Joker. At the end of 2015, on the 18th December exactly, after a long awaiting of about three years, arrived from Canada my last kitten named Delilah Darlin'lil'Dolls a beautiful female Blue Bicolor from one of the world most prestigious breeding catterys. With this last arrival I concluded my research, having achieved over the years all the "targets" that I had set for myself.
I preferred to take the most of our Ragdoll not in Italy but abroad as New Zealand, Norway, Poland, Prague, Spain and Canada in a way to use blood lines different from those which already appeared in Italy, mixing different genetic resources, looking for the future kittens that eventually will getalways more close to MY PERSONAL idea of Ragdoll. I studied the results that I could have with various interbreedings, both in terms of physical characteristics (more round head, smaller ears and a slightly marked muzzle) and "CHARACTER", because my goal is to develop as much as possible the "sweetness" of the character.
I also want to point out that our ragdoll ARE NOT CROSSED WITH MINK ragdoll in a way to preserve the purity of the race, therefore I select for my program the examples of Traditional Ragdoll, able to highlight the beauty, the physical structure and especially the "sweetness" of character, trying in this way to make a small contribution to enhance this wonderful breed.
What it is decided with the "genes" is not the only important thing. The breeder has to do a good "job" when the Ragdoll are still small kittens, if the newborns are left alone with their mother with just an occasional caress, the kittens will grow sweet but less than they could become, let's say they don't develop their full potential of sweetness. Its up to us, breeders to cuddle the cat, to give it attention and take it often in our arms during the first three months that kittens will spent in the cattery before the adoption. Who takes care of the kittens in the first weeks of life has therefore a significant role in creating a strong bond with the human being and in putting the basics to bring out the proverbial genetic "tenderness" of Ragdoll, although with the possible natural character differences between various cats.
All our breeding species have been carefully selected for docility and sweetness of character, as a result each of our kittens is affectionate and interacts well with people and all pets.
My attempt is to give the special emphasis to the kitten's character, so it is cuddled from the earliest days of life to develop all the love that only this unique race in the world is capable of giving, I also remind that every one of our breeding species are negative HCM / FELV / FIV / FILARIA / WE PROVIDE THE VETERINARY FIP FREE CERTIFICATE IN THE CATTERY.
MY KITTENS ARE NOT BEING STERILIZED AT 2 MONTHS, I AM COMPLETELY AGAINST OF EARLY STERILIZATION OF RAGDOLL! IN MY OPINION, KITTEN NEEDS ALL ITS HORMONES FOR THE CORRECT GROWTH. IN THIS WAY WE AVOID RISKS OF KIDNEY and URINAL PROBLEMS, WHICH MIGHT APPEAR IN THE COURSE OF ITS LIFE!
All our cats live at home with me, in this way they can develop at best their sweet character, so typical of the breed.
The Ragdoll was officially recognized as the feline race in 1992.
Comparing the Ragdoll any other race would seem unfair and restrictive to me, thousands of words have been used to describe its extraordinary qualities and I can confirm, both for the experience gained as a breeder and by the testimonies I receive from people who have chosen one of our Ragdoll as pet cat, that it really is a race like no other.
The Ragdoll is a wonderful creature, faithful companion with a very sweet temperament, incapable of doing harm, it has the unique quality in the world of limping completely in the arms of its owner, opening the heart every time you hold it in your arms. Thanks to these features it is frequently used for practicing the pet therapy. What else can I say about Ragdoll…the deep blue color of its eyes gives its magnetic glance all the charm and mystery that are surrounding its story.
I dedicate the entire website in remembrance of Freddie Mercury the leader of the band Queen, from which comes the name of my cattery.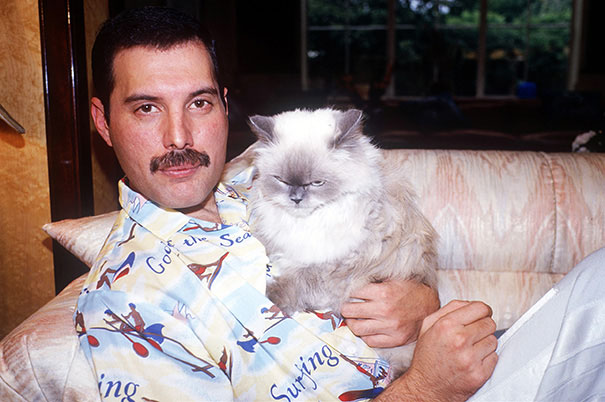 – Anna –